NeuraLabel Callisto GHS Label Printer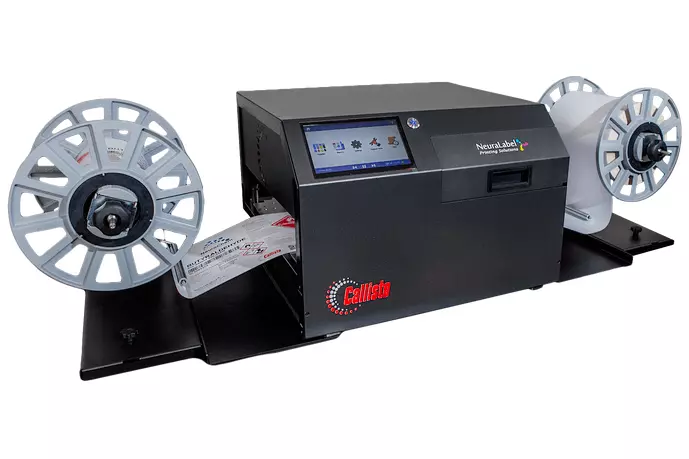 What we like about Callisto? Time savings was the main thing. Something that prints faster, but still has high quality. It's nice to get reports on ink and to see how many labels we've printed. I like the printer so much I referred our sister company to get one too!
Heather Runneberg, Wells Ag Supply
Fastest Industrial GHS Label Printer for Variable Data
---
Durable full-color labels at 90 feet per minute
Variuos label sizes on the same device up to 12 inches wide
Labels with variable information directly out of SAP, Nicelabel, Bartender, and others
BS5609-compliant labels that withstand 90-day saltwater submersion, UV exposure, and abrasion testing
Durable water and chemical-resistant labels using pigment inks that withstand alcohol, acetone and more
Produce 16,000 - 20,000 standard pages per color with extra high-yield ink cartridges
Print fanfold or roll-to-roll
NeuraLabel Callisto GHS Label Printer Specifications


NeuraLabel Callisto Specifications**
Print Speeds
Up to 90 feet/minute (18 ips)
Print Resolution
Up to 2400 x 1200 dpi from 600 X 600 dpi input
Ink Type
4-Color CMYK Aqueous Pigment Ink
Print Technology
Thermal Inkjet with Fixed-Head
Media Sensors
Gap and Mark
Media Types
NeuraLabel approved media; Inkjet-Coated Paper and Synthetics (BOPP, Vinyl, PET)
Media Widths
1.0″ (25.4 mm) - 12.1″ (304.8 mm) wide
Print Widths
1.0″ (25.4 mm) - 11.99″ (297.2 mm) wide
Consumables
Service Tray 800 printhead wipes
Cartridge Yields
CMY 16,000, K 35,000 standard pages
Connectivity
10/100/1000 Base-T Ethernet
System Requirements
Microsoft Windows®
Print Drivers
NeuraLabel CMYK
Operator Panel Display
7″ Color Touch Screen
Print Engine
38 lbs. 20.3″ W x 16″ H x 15″ D
Dimensions
19.5″ W x 13.25″ H x 18.25″ D
Weight
55 lbs.
Operating Environment
Recommended temperature range: 60 to 85℉
Recommended humidity range: 20 to 80% RH
Power Supply
Built-in Universal, 100V to 240V, 50/60 Hz
Warranty
1 Year Return to Depot, Premium On-Site Service Available
Callisto Technology
---
The new NeuraLabel Callisto GHS label printer is a versatile, affordable, high-speed color label printer offering quick turnaround of on-demand, short- and mid-run labels.
The large 7" user-friendly touch screen and built-in help options make the Callisto simple to operate and maintain. The durable and lightweight aluminum construction and small footprint make it ideal for the factory floor. You can be assured of a low cost of ownership and easy, trouble-free operation for years to come.
The NeuraLabel Callisto offers extreme flexibility for label production. Print labels in any width from 1 to 12 inches on roll-fed or fanfold media to create brilliant GHS labels. Water-resistant pigment inks ensure that your labels meet BS5609 standards for adhesion, resistance to abrasion, saltwater immersion, and UV exposure for GHS and chemical applications. With a print resolution of up to 2400 x 1200 dpi, colors pop, and graphics look sharp on your finished labels regardless of the application.
With print speeds of up to 18 inches per second or 90 feet per minute, the Callisto is a commercial-grade inkjet printer that can complete short and medium runs with ease producing stunning full-color labels in mere minutes. High-capacity ink cartridges keep your printer running, increasing productivity.
The Callisto label printer offers easy media loading and smooth operation. Choose from a wide range of qualified label media.
There is no need to invest in new label design software; the Callisto seamlessly integrates with all industry-standard labeling software and enterprise solutions like SAP, GLM, and Loftware Spectrum. And with a convenient onboard storage feature, you can instantly print labels at any time.