NeuraLabel 550e GHS Label Printer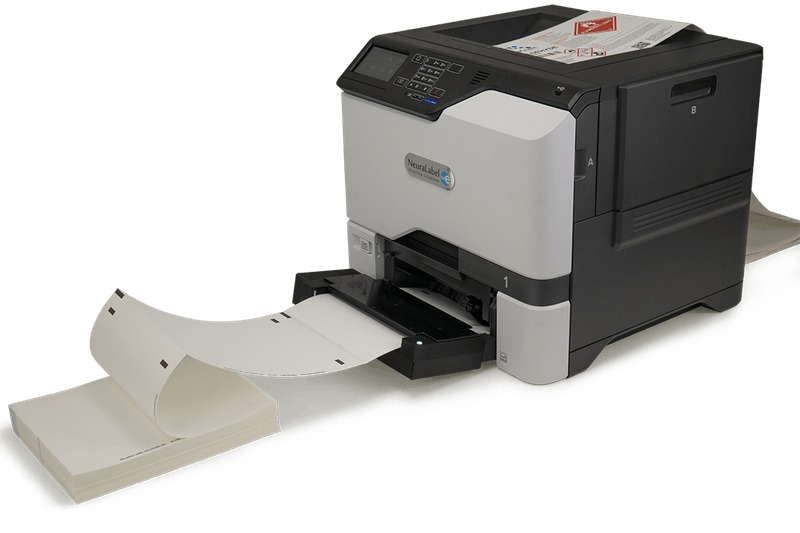 The new NeuraLabel 550e label printer is an industrial class drum label printing solution that offers one-pass, 4-color printing to quickly produce durable GHS-compliant labels. Printing at speeds up to 55 feet per minute on fanfold or rolled media has never been so effortless.
With an easy to use interface, robust automated media handling, and easy-access, recyclable consumables, this printer is ideal for both office and warehouse alike.
Industrial-Class Drum Label Printing Solution
---
Single Pass, 4-Color Laser
1200x1200 dpi print resolution
Print fanfold on Letter, Legal and longer drum labels up to 8.5" wide
Job storage in printer memory allows simple PC and Network-free printing
Full color GHS-compliant and BS5609-approved labels produced on-demand
Prints a 500-label roll in less than 10 minutes
NeuraLabel 550e Printer Specifications


NeuraLabel 550e Printer Specifications*
Printer Speed
Up to 11 ips
Media Specification
Standard NeuraLabel Media Specification for Continuous Feeder

Standard sizes of Letter, A4 and Legal

8.5″ width x up to 48″ length fanfold
8.5″ width media rolls up to 8″ OD on 3″ cores
Media Capacity
Unlimited length with Continuous Feeder Attachment 550 Sheet Cut-Sheet Tray
Media Type

Self-Adhesive, Die-Cut, Tag Stock, Cut Sheet, Fanfold, Approved Film/Synthetics, Qualified GHS-Compliant media
Printer Drivers
Windows Postscript, PCLXL and Linux Drivers
Print Resolutions
1200 x 1200 dpi
4800 ColorQuality (2400 x 600 dpi)
Interfaces
Network Ethernet

Consumables
20,000-page (K) and 12,000-page (CYM) High Capacity Print Cartridges
150,000-page (K) and 150,000 (CYM combo) Imaging Units
150,000-page Fuser
Recycling Program for Print Cartridges
Toner
No shake, low temp Unison toner for a broad range of media types. Custom settings available to control toner usage
Dimentions
Complete System with NoTouch Winding System on Baseplate 41″ W x 19″ H x 20.5″ D
Print Engine 18.7″ W x 16.4″ H x 19.6″ D
Processor/Memory
1.2 GHz,1.5 GB on board RAM
Weight
Print Engine 83 lbs.
Electrical
Specify 110V or 220V
*Specifications subject to change.
** Drum label media meeting the required specifications and containing relevant markings may be used. For GHS compliant chemical drum label printing, polyester media should be used.
Compatible Software
---
The NeuraLabel 550e printer is a Windows compatible device. A Linux printer driver is also available. Any application that prints to a typical office printer can print to NeuraLabel 550e. Continuous form printing, however, requires applications that allow documents to be printed continuously. NeuraLabel 550e printer - compatible label authoring software applications include:

IHS/Atrion LPI (Label Print Interface) - Label printing software solution for global petro-chemicals industry products. www.atrionintl.com
BarTender - Design and print software for labels. www.seagullscientific.com NeuraLabel Printing Solutions is an authorized reseller of BarTender, the world's leading software for label, barcode, RFID and card printing. BarTender together with the NeuraLabel printer gives customers a unique and integrated software and hardware solution for printing GHS-compliant chemical drum labels.
EasyLabel - Barcode and RFID label software. www.tharo.com
CodeSoft - Codesoft by TekLynx is for those who have complex label design and integration needs. Easily integrate label printing and RFID technology into your business process.www.Teklynx.com
Loftware Label Manager - Industrial strength label design and printing.
Loftware Print Server (LPS) - Server-based software solution for managing and processing label print requests from corporate applications.
Loftware Connector for SAP Applications - Takes ERP system label printing to a new level, driving a seamless flow of supply chain and manufacturing operations. www.loftware.com
NiceLabel - NiceLabel software offers label designing and printing solutions with support for barcodes, databases, thermal transfer printers and open connectivity.. www.NiceLabel.com
SAP Global Label Management - SAP application for label printing. www.sap.com
The Wercs - Comprehensive, automated MSDS software for authoring. www.thewercs.com
Vision® - Label printing software from Reliance Label Solutions, Inc. www.reliancelabel.com
Adobe Reader X has been tested with NeuraLabel to print PDF files. This is a free download from Adobe. Whether you are using a label template or a simple PDF document, the pages will be printed on page per label on continuous label media.