NeuraLabel 300x - Label Printer
---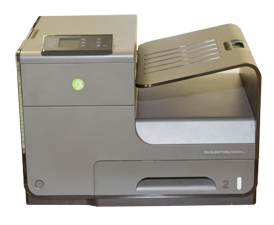 The NeuraLabel 300x -
Variable-width GHS compliant label printer.
---
The NeuraLabel 300x is a high-speed, high resolution printer for in-house, digital on-demand color label printing. Featuring the latest innovative pagewide printhead technology, the NeuraLabel 300x is capable of print speeds up to 20 inches per second (that's over 100 letter size labels per minute). With print resolution up to 2400 x 1200 dpi, colors pop and graphics look sharp on your finished labels. Utilizing water-resistant pigment inks ensures that you can print on a wide variety of label media, suitable to any application, including moisture and abrasion resistant synthetic media. The NeuraLabel 300x prints labels in any width from 3 to 8.5 inches, on either fan-folded or rolled label media.

BS5609 approved labels are produced on-demand at speeds up to 20 inches per second.

Water-resistant pigment inks ensure resistance to abrasion, saltwater immersion, and UV exposure.

Built on HP pagewide technology - advanced print head technology similar to that found in high-end digital press operations.

Handles variable width media making it ideal for labeling everything from pails to intermediate bulk containers.

Integrates with SAP
NeuraLabel 300x Printer Specifications